Linda Marveng on norra kudumisdisainer ja lähedane sõber Ravelrys. Nüüd tutvustan teda oma lugejatele. Esitasin mõned küsimused, all on tema vastused. Valisin välja mõned pildid, mida kasutan Linda lahkel loal (fotograaf Kim Müller). Pange tähele rõngassalle, mida sobivad sviitritega kokku ja on kasutatavad kraena!
Linda Marveng is a Norwegian knitting desinger and a close friend on Ravelry. I am going to present her to my readers. I asked some questions and here are her answers.
I chose some pictures of her desings that I use with Linda's kind permission (photos by Kim Müller). Please pay attention to cowls that match sweaters and can be used as a collar!
1. Kuidas hakkasid disaineriks?
Olles modifitseerinud kõik õpetused, mille järgi kudusin, otsustasin, et on aeg alustada otsast peale ja teha oma õpetusi. Olin jõudnud teha vaid paar jakki ja mõned aksesuaarid, kui norra kirjastuse
Cappelen Damm

toimetaja
Inger Margrethe Karlsen küsis, kas tahaksin kirjutada kudumisraamatut. See oli suurepärane väljakutse, kuid ka üsna koormav ülesanne, sest sinna taheti vähemalt 32 kudumit, seega võttis raamatu tegemine peaaegu 3,5 aastat, kuna kudusin üle 20 mudeli ise.
1. How did you start designing?
I had done numerous modifications to all the patterns I knitted, and decided it was time to start from scratch and make my own patterns. I had only done a few cardigans, and accessories when editor Inger Margrethe Karlsen from the Norwegian publishing firm Cappelen Damm asked if I was interested in making a knitting book. It was the perfect challenge for me but a daunting task since they wanted at least 32 designs, hence it took nearly 3,5 years to make it since I knitted more than 20 garments myself.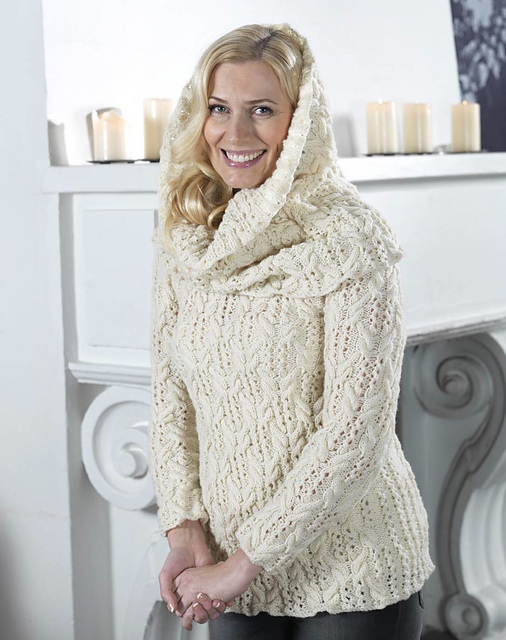 2. Kuidas kirjeldaksid oma esteetikat (kas on kindlaid stiilieelistusi)?
Kui kavandan, pean silmas iseend, mu eesmärk on elegantsed ja samas trendikad riided. Olen hästi rahul, kui neid saab kanda erinevalt, näiteks tagurpidi, või kui neil on mitu otstarvet, nagu näiteks rõngassall vööna. Mulle meeldivad aksessuaarid, iseäranis rõngassallid, ja ma leian tihti, et nad on hädavajalikud riidetüki lisandi või kontrastina, nii et rieetus muutub pidulikumaks. Jumaldan tekstuuri, mind paelub pits ja palmikmustrid, seda kõike kindla vormi osana. Soovin julgustada kudujaid arendada nende enda potentsiaali ja loomisvõimeid.
2. How would you describe your esthetics (preference for any

particular style)?
I have myself in mind when I design, and aim for elegant yet trendy garments. If they can be worn in different ways, like upside down, or have more than one function like a cowl worn as a belt for instance, I am very pleased. I love accessories, cowls especially, and often find it necessary to make one to match or contrast the garment so it becomes more dressy. I adore texture and are drawn to lace and cable patterns, within a strict form language. I aspire to challenge knitters to develop their own potential as well as creative abilities.
3. Millised on Su konstrueerimispõhimõtted?
Eelistan ikka vanamoodsat alt üles kudumist, sest mulle meeldib kududa mustriskeemi järgi õigetpidi. Usun, et õmblused annavad kudumile stabiilsust ja püsivamat vormi, samas tean, et on kudujaid, kes eelistavad õmmelda võimalikult vähe. Nii et võtsin seda arvesse ja tegin viimased jakid ühes tükis kolme tüki asemel (soovin nimetada neid ikka jakkideks, kuna nad on ametlikuma väljanägemisega). Nüüd koon ringselt ka varrukaid, ei koo edasi-tagasi.
3. What are your construction principles?
I still prefer the old fashioned bottom up, because I like working charts the right way around. I do belive seams give garments stability, and better shape but know there are many knitters who prefer to sew as little as possible. So I have taken this into consideration and made the last jackets - I like calling them jackets since they are more formal - in one piece instead of three pieces. Now I also knit the sleeves in the round, instead of flat.
4. Su lemmiklõngad (kiud, tootjad)
Mulle meeldivad norra firma Hifa lõngad, sest nad kasutavad värve nagu kunstnikud, ja neil on mitmesuguseid särbrulisi lõngu, mis annavad suurepärast reljeefset pinda. Eriti nende Ask - Hifa 3, Sport [inglise lõngajämeduse liigendamise süsteemis annab tihedust 24-26 s 10 cm kohta] 5-kpuhas villane, ja Norsk Pelsull (norra pell-tõugu lammastelt). Hifa lõngade tootja
Hillesvåg on hiljuti saanud muuseumiks, vt video:
http://www.youtube.com/watch?v=qxwQF_5IaZc
Samuti meeldib mulle nende puuvill, eriti Perle, 4-kordne lõng [Fingering, 32 s 10 cm kohta]. Kipun valmia tugeva keeruga lõngu, et saada reljeefset koepinda. Muud mu lemmikud on:
Madeline Tosh Sock Yarn ja DK, Wollmeise Lace ja Sock, Alchemy Silken Straw ja Borg Vävgarner Tussah Silk.
4. Your favourite yarns (fibers, manufacturers)
I love the Norwegian Hifa yarn because they work with colours like artists do, and have several ranges of melange yarns with fabulous stitch definition. Especially their Ask – Hifa 3, a Sport/5-ply pure wool, and Norsk Pelsull (from Pelt Sheeps). Hillesvåg who makes Hifa yarn has recently become a Museum, see video: http://www.youtube.com/watch?v=qxwQF_5IaZc
I also like knitting with their cotton yarn, especially Perle, a Fingering/4-ply. I tend to select yarns with a tight twist to achieve an ultimate stitch definition. Other favourite yarns of mine are: Madeline Tosh Sock Yarn and DK, Wollmeise Lace and Sock, Alchemy Silken Straw and Borg Vävgarner Tussah Silk.
5. Kas soovid midagi lisada?
Mind vaimustab toetus, mida saan oma Ravelry rühmast, ja mul on ülimalt hea meel näha testkudujate tulemusi ja valmiskudumeid. Kui rajasin oma rühma eelmise aasta mais, mul polnud aimugi, et tugi aitab mul korrastada disainimisplaane ja mu enda produktiivsust. Kui Teile meeldivad mu kudumid, palun astuge rühma ja andke mulle
disainimis
tööd juurde.
I am overwhelmed with the support I receive from my group on Ravelry, and I am thrilled to see the results from the test knits as well as the other finished projects. When I started my group in May last year, I had no idea that the support would help to structure my design schedule, and aid my productivity. Please join, if you like my designs, and keep me busy with even more design submissions.
Linda blogi (inglise keeles) on
siin
. Head lugemist!
Linda's blog (in English) is here. Enjoy reading!